Marian-Andrei Rizoiu.
I am a research fellow in computer science with the College of Engineering and Computer Science in the Australian National University. My main research interests are Online Information Diffusion, Theoretical Popularity Modeling, Online Privacy, Social Networks, Machine Learning, Data Mining and Big Data. I am also lecturing, see more about my teaching.
I am equally affiliated with Data61 in the Decision Sciences team.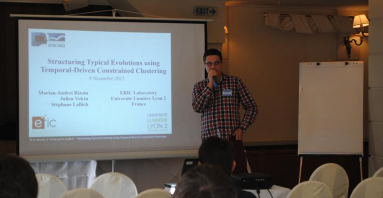 Research
My research revolves around artificial intelligence, machine learning and data mining. More specifically, I am interested in Social Media Analysis, Popularity Modelling and Prediction and Online Privacy. Previous interests include knowledge injection into non-supervised learning algorithms, data representation and temporal evolutions.
See more about my research.
News
2018-05: After the WWW 2018 conference in Lyon, France, I have visited for a week the Max Planck Institute for Software Systems in Kaiserslautern, Germany, hosted by the team of Manuel Gomez Rodriguez, one of the top groups world-wide in stochastic modeling.
2018-03: Three of our papers just got accepted at ICWSM 2018, the top computational social science conference. Rendez-vous in Stanford, California, US.
Back to Top